Ultra-fine 2.0mm industrial endoscope - JEET Industrial Endoscope
The 2.0mm industrial endoscope produced by JEET Technology has stable product quality, lightweight and portable design, and intuitive operation interface, which has won the love of many customers.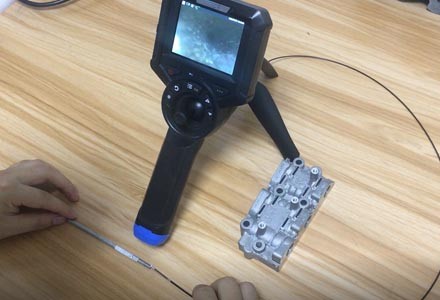 Features:
1. Screen change: independent module design of display screen and pipeline, 3.5-inch and 5.1-inch display screens can be selected at will, the operation is more intelligent and convenient.
2. Ultra-clear: camera and video 1080P, 450,000, 1 million, 2 million pixels are optional; support HD video recording, ultra-clear image display, resolution up to 1920*1080.
3. Output: The image can be output to a high-definition display through HDMI losslessly.
4. Zoom: The preview image supports real-time 4X zoom, which makes defect detection more intuitive.
5. Alarm: high temperature alarm, yellow alarm will be displayed when the detected ambient temperature is above 70℃, orange alarm when above 80℃, red alarm when above 90℃ and shutdown.
6. Ruler: Contrast measurement of defect size, cross ruler display, call at any time, more accurate auxiliary judgment for defect detection.
Advantages of Deep Vision T Series Industrial Video Endoscope
Fully portable, easy to use, high-quality industrial video endoscope
Change the size of the display
Flexible selection of thick and thin pipelines
360° precise steering with joystick
8 hours super working time
JEET's high-end T series 2.0mm
industrial videoscope
, the image is delicate and clear, can quickly replace different specifications of pipelines, the insertion tube is waterproof, oil-resistant, wear-resistant, and has powerful software functions, suitable for automobile manufacturing, aerospace, precision casting, railway and ship pipeline welding Various types of internal visual inspection scenes such as logistics. To learn more about industrial endoscopes, please come to consult.