S series high-definition industrial video borescope
Industrial video endoscopy is understood in an easy-to-understand way as reaching into the non-detachable industrial machinery and equipment through the front catheter with several LED strong light sources and high-definition cameras to inspect all aspects and manually determine whether there is a fault in the equipment through the form of video transmission back. In the endoscopy industry is also known as non-destructive testing technology.
  Compared with manual inspection, industrial video endoscopy can clearly detect hidden areas that cannot be identified by the human eye, solving many technical difficulties that cannot be handled manually. Such as pipeline particularly narrow location, toxic environment, etc., the video endoscope can easily replace the manual completion of the inspection work and timely grasp of the internal conditions of the environment. Such as welding quality has no defects, there is no crack, if found problems immediately to deal with to protect production.
  Industrial video borescope can be mainly applied to include automotive parts casting, hydraulic class casting, pump body valve body class casting, aerospace power equipment, police military field, wind power hydropower and thermal power equipment, pharmaceutical machinery and equipment, large boiler equipment, mechanical parts casting, pipe fittings class casting units, can be used to check the casting sand trapping situation, burr situation and cross-hole situation and other quality control. On the current market video borescope products have been quite common, models and brands are also endless.
  Industrial video borescope can rotate the lens 360 degrees to provide a full range of observation field, and the advanced camera system for the dark inspection site also provides sufficient lighting. The color rotating lens also allows close observation of the internal structure of the machinery to check the cracked corrosion weld blockage and the internal foreign body situation.
  Like the
S series high-definition industrial video borescope
developed and produced by JEET is a multi-functional, high-performance borescope product that can be applied to aerospace, automotive manufacturing, power plant equipment and other fields. Its advantageous features are mainly manifested in the panoramic 360° steering rocker detection without dead angle, with 220° large bending angle, 1280*720 HD picture quality, waterproof, dustproof and high temperature resistant, wireless WiFi link function and other features.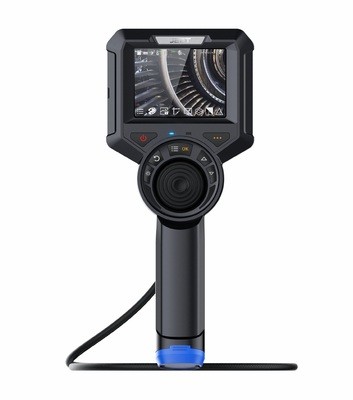 This advanced endoscopic inspection method, with a fairly high technical content, can accurately find the problem, is a necessary non-destructive testing products in the industrial field, effectively guarantee the normal operation of industrial equipment, production efficiency to further improve.