Professional Inspector Details The Daily Care And Use Of Industrial Endoscopes Points
As one of the main means of visual inspection in non-destructive testing, industrial endoscopes have achieved good feedback and reactions in many fields. For example: aerospace engine maintenance, automotive exhaust pipe maintenance, pipeline pressure vessel maintenance, food and drug machinery and other industries.
  Since the industrial endoscope on machinery and equipment can be maintained maintenance maintenance maintenance, then the industrial endoscope itself maintenance and use of attention? Next JEET for you to reveal.
  Through access to information is not difficult to find, Shenzhen JEET Technology Co., Ltd. industrial endoscope is mostly divided into two parts: the host, handle and a few integrated machine.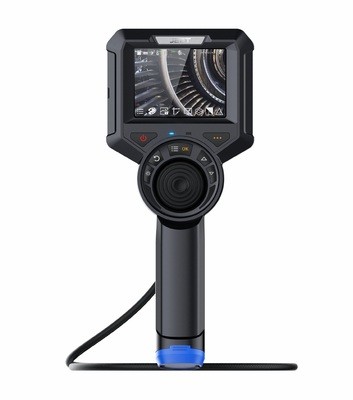 First of all, the host part: the host display is divided into 3.5, 5.7 inch, with LCD ips HD full-view display can achieve a large wide-angle, delicate images, vivid colors and imaging stability. Key points function menu, playback, lighting control. The operation is simple, convenient and quick, easy to understand. However, when using to pay attention to avoid as far as possible long press and high frequency use, long time not to use to turn off the power in time. LED lights remember that the brightness level as far as possible in about 6 levels of use, to prevent excessive temperature damage to the LED light group. Then is the reset hole of the external HDMI port, USB port can not be violently plugged, or affect its service life.
  Handle part: Shenzhen JEET Technology Co., Ltd. all endoscope handle steering can be achieved ≥ 180 °, can also achieve 360 ° all-round steering, it should be noted that can not keep the same angle for a long time, because the rocker control direction relying on the wire rope force, if a long time to maintain an angle will be wire rope stretching, the angle is small so as to affect the normal use.
  Camera part is the most important. Can not be extruded by external forces, collision (so that its internal structure damage) resulting in no image display.
  Front LED light: detect objects, workpieces, machine interior, be sure to make its detection environment dry, water or oil environment is not recommended, special circumstances must be used after the use of alcohol cleaning, dust-free cloth dry lens. Residual water, oil stains over time will affect the image imaging obscured blurred, making the detection results inaccurate, high-temperature environment will lead to the internal structure of the camera carbonization can not be used.
  To sum up is the use of the process of light, slow - lightly hold lightly, slow movement, wipe after use.
  Although the machine does not have feelings, but also need to love and maintain。